Summer Patterns and the Search for Flounder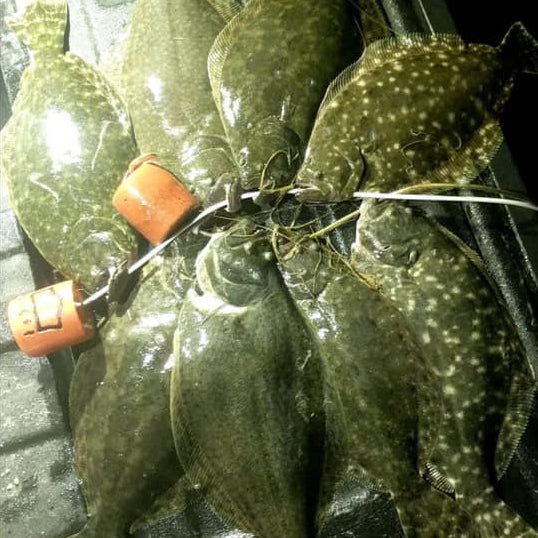 The flounder search with the summer patterns in full swing becomes a bit easier. High temperatures and lower than normal tides expose many of their hiding spots making the flounder a bit more predictable .
Lately, almost every one of my flounder holes have had little to no activity forcing me to go out and find new spots. This can be a good lesson, and will push you to pay attention to what is going on with the moon and tidal changes. On the last few expeditions this week the fish were more than a hundred yards of of the shoreline, and sticking to sand pockets on one end of the bay. On the other side they were in deep mud with occasional oyster beds.
We found more fish when the tides were starting to rise up until it started to dump out (maybe an hour in to the falling tide). Most of the flounder have been an average of 17-20 inches and in the 2-3 lb range, and every once in a while we would find a 5 pounder. The nonstop rain will cause the water levels to rise a bit, but while the deeper water is good, there will be quite a bit of runoff causing the water clarity to be a bit dim for a week or so. If you cannot see the flounder to try and gig them, you can grab a rod and reel in the areas you gig them. If you are able to entice them enough with your bait or lure they will still bite. When I fish for flounder and the water has bad clarity, I prefer to use darker colors in order for them to stand out to the fish.
Lately we have been pairing the lures with a Texas Rattler jig head so that the noise from the jig will cause a reaction strike. We will run two at a time to find out what color they prefer on that specific day. By the end of the day after working all of the drains and eddies, we had caught ten or more flounder. Only four or five of those flounder had enough size on them for me to justify keeping them. I also noticed people were catching smaller flounder out near the jetties on the surf side of the rocks. They used Carolina rigged live mullet and also mud minnows nose hooked.
The flounder have been a bit on the aggressive side, making the hook set easier as they run away with the bait in their mouth. Legend popping corks with a two foot leader on them were also producing fatties. When I use a cork my favorite bait is gulp shrimp in a new penny color with three inches in length.
Most importantly, get out there and give it a try! I have seen plenty of flounder around the bridges and rocky areas. If you have any questions just shoot me a message and I will do my best to help. Check out my YouTube at Flounder Professor Outdoors TV for more tips and videos. Until next time, tight lines and sharp gigs."
Capt Brian Joseph Spencer
---