Flounder Tips and Tactics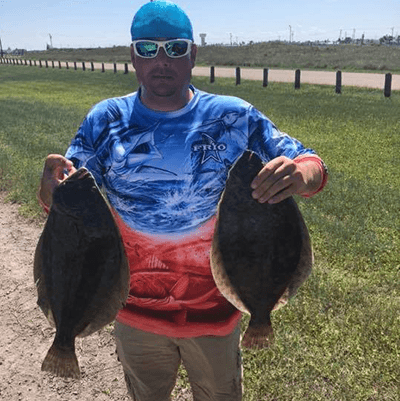 My favorite time of the year is coming soon, the fall flounder run. When they see that temperature of the water drop near 65-67 degrees it is time to migrate out in to the gulf or at least to a waterway that is deep enough to help them spawn. Flounder do not have an air bladder so they have to find water between 60 and 150 feet deep and use the pressure to actually expel their eggs. The change from warm to colder is engrained in their DNA to trigger the migration patterns. This also happens one more time when they come back in to the flats during the spring.
The action for them while gigging has been exceptional when the tides are low enough for us to be able to see but as of right now with all of the storms in the gulf it is super high and has been for about two weeks. Lots of them have been on the drop off most of the time because they would end up stuck if they went too far inshore. The problem we were having to deal with was the full moon also which really makes a difference in how many you see and how they act when you find them. One of the key things during a bright moon with no cloud cover is to see when the moonrise is and try to get there before it is up in the sky too high. At that point the only thing you can do is walk with the moon in front of you as to not cast a shadow and spook the fish. They seem to become more aware during a bigger moon and will take off if they feel the slightest vibration or see a bright light. Same for when the tide is coming in and they are following it, it is best to let them settle in or there is a good chance of spooking them. Once they are buried you can pretty much stand next to them and pet them and they won't go anywhere. Size has not been any issue with an easy 2.5 pound average with a 30 fish night. More stops has been the key during the high tide.
Fishing rod and reel has been pretty steady with me finding quite a few on the sand side of the jetty. Hanging very tight up near the rocks. Throwing a gulp shrimp or a Chickenboy bubba clucker has been very good. The water has been dirty so darker colors have been producing better with a slower presentation to give them a good look at it. Just drag the bottom and wait for that thump, count to ten and set that bad boy. You should do pretty good if you can be patient. Get out there and give it a try. I will be giving away a free flounder trip when my You Tube channel Flounder Professor Outdoors reaches 1000 subscribers. Have a great month and until next time, tight lines and sharp gigs. Just remember as of November 1st until December 1st there is no gigging allowed in Texas.

Capt Brian "Flounder Professor" Spencer

Flounder Professor Outdoors@ Facebook and You Tube

Flounder Professor @ IG
Sponsors: Chickenboy Lures, Redtail Republic,
Legend Popping Corks, Nacho Daddy Spoons, Power Pole,
Salt Thugz Apparel, Texas Rattler Jigs, Frio Coolers,
ForEverlastInc, Pure Fishing, Unfair Lures, Chupacabra Rub,
Kelley Wigglers, Fin Addict Angler, Saltwater Angler,
Outcast Rods, Stinkypants, De Fishing Soap, Steves Lures, Wet Sounds Trokar
---