Finding Flounder in May & June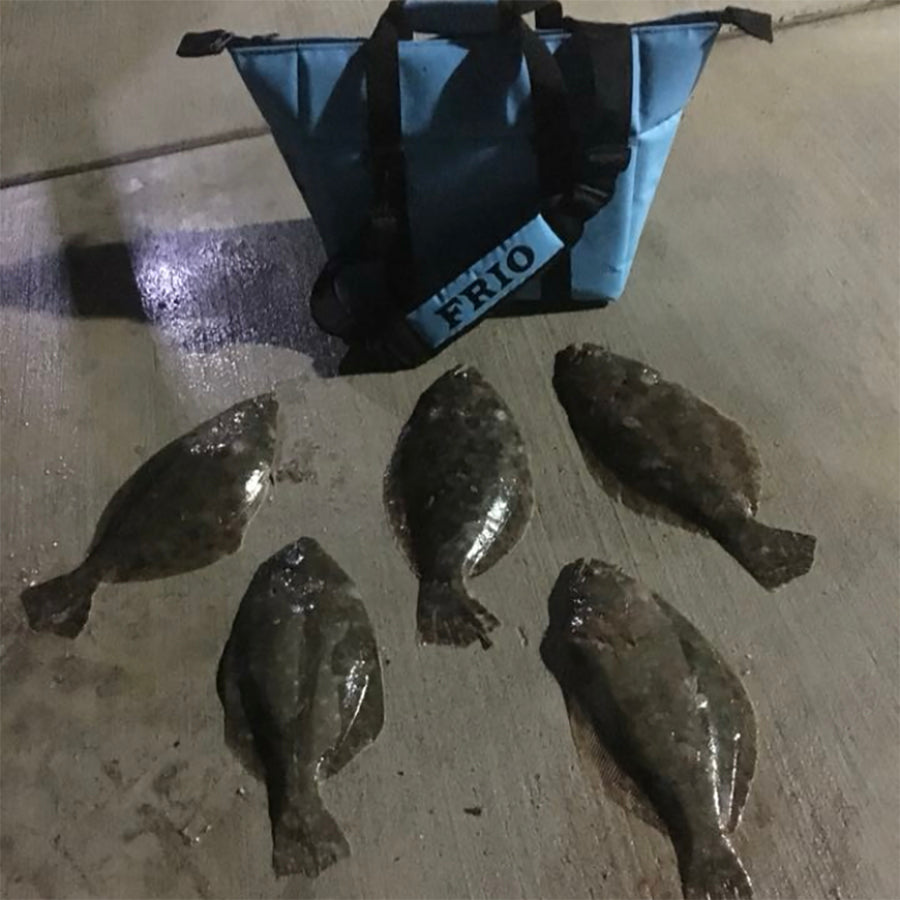 FINDING FLOUNDER IN MAY & JUNE
Hot temperatures are already putting a hurting on me after a full day of fishing. It is important to stay hydrated in this weather. Before I get on the subject of fishing, there is something else I would like to talk about first – Boater's etiquette.
Boater's etiquette should be a class that is mandatory for some people. I will just name a couple of things that have come to light while I have been out on the water with the Summer folks coming in. When you are looking for your spot to fish, first observe everything on the water and double check that you are not going to be cutting off someone's drift or wade. The wind will tell you which direction the boat will be going, and you do not want to run in between someone and their fishing area. If the only channel around is going near someone, just run where you are as far away as possible. Showing people the same respect that you would like to be shown is the way I like to present myself on the water.
Now let's get back to our flounder report. Right now, is probably the weirdest May-June that I have seen in regard to putting the flounder into a steady pattern and finding them each time. The other guides and commercial fisherman are also experiencing the same thing. Nights of gigging that should only be taking 2 hours are turning into 5-hour trips, plus there's the addition of having to make a whole bunch of extra stops to find them.
The fish are still around, just only one or two per area as compared to five or six per place. The water still looks clear enough to find them, it is just that they are not hanging out as close to each other as usual. With the tides being low and the moon being full it makes for a tough night of gigging.
The fish that we are getting have been laying on oyster beds, as well as right off main points where bait is plentiful. We have also been starting at dusk to beat the moon rise which makes the flounder extra skittish. The run must have gone well with all the baby flounder that I am seeing on the drop offs. The bite in the flats has turned on for sure, but since you cannot get the boat back there, it is making for long wading walks to find these fish. Ultimately, stopping at every single little drain and runoff has been paying off in the long run.
I am still throwing that perfecto pink pollo with a 1/4 oz Texas Rattler Jig head, and working the extreme depth changes is the hardest. The sizes are staying between 17 and 20 inches in the 2-4-pound range. Mud minnows have been working great for bait also, just take your seine net or cast net and catch them yourself. Hook it between the eyes or right below the fin towards the back of the tail so it looks more natural.
If you need some specific help, just email me or shoot me a message and I will do my best to assist you. Hopefully these tides will start rising a bit and make things easier. Have a wonderful week and until next time, tight lines and sharp gigs. Check out my YouTube channel @Flounder Professor Outdoors TV for more extensive video help. 
Brian Joseph Spencer
bspen112@gmail.com 
@Flounder Professor Outdoors TV YouTube
@Flounder Professor IG 

Sponsors: Chickenboy Lures, Redtail Republic,
Legend Popping Corks, Nacho Daddy Spoons, Power Pole,
Salt Thugz Apparel, Texas Rattler Jigs, Frio Coolers,
ForEverlastInc, Pure Fishing, Unfair Lures, Chupacabra Rub,
Kelley Wigglers, Fin Addict Angler, Saltwater Angler,
Outcast Rods, Stinkypants, De Fishing Soap, Steve's Lures, Wet Sounds
Trokar
---